Raising just under a million pounds in the past five years, charity has persistently sat at the heart of DUCFS.
Most recently supporting Mind in 2018, Environmental Justice
Foundation in 2019, Stop the Traffik and Fashion Revolution in 2020, Create and 3 SIDED cube in 2021, Teenage Cancer Trust in 2022 and The Rainbow Trust in 2023.
DUCFS aims to embrace a vast spectrum of causes, whilst within the last couple of years focusing primarily on making a local and tangible change within the north-eastern community. 2023
The Rainbow Trust
The Rainbow Trust, encapsulates our creative vision which centres around the concept of time. Supporting the families of children with life-threatening or terminal illnesses, the Rainbow Trust pairs each family with an expert Family Support Worker. Therefore, enabling them to make the most of their time together, giving them both practical and emotional support, whenever and for as long as needed. Committed to making a local and tangible change, in 2023 DUCFS raised money to fund FOUR family support workers within the North East for a year. Through our partnership with the Rainbow Trust we have enabled 125 families, and up to 500 beneficiaries to spend treasured moments with their loved ones.

2022
2021
2020
2019
2024
2023
2022
2021
2020
2019
2024
CALM
At the centre of our creative vision for DUCFS 2024 is our belief that the future is now. With this in mind, we are excited to be supporting Campaign Against Living Miserably (CALM) as our charity partner this year, working alongside them to take a stand against suicide now, to help craft a better future.
CALM is a UK-wide mental health charity that offers life-saving services, provokes national conversation and brings people together to reject living miserably. 125 lives are lost to suicide every week, with each one directly affecting 135 people – CALM exist to change this. Their helpline and webchat are open 365 days a year, with one call being answered every 59 seconds.
Our goal this year is to fund an additional 2 seats on CALM's helpline, which could allow for 19,574 more potentially life-saving phone calls to be answered annually. Continuing our commitment to making an impact locally, we also hope to fund an educational campaign in the North East, which has the highest suicide rates in England, and where CALM's services are notably under-utilised.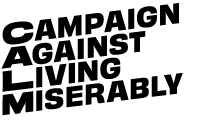 2023
2022
2021
2020
2019